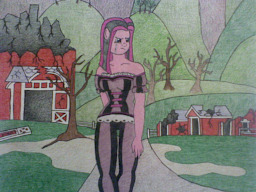 During Twilight's coronation, the evil queen returns, but there's something different about her. Some new power she's found. Equestria falls into darkness. Over time, the ponies have gone through a startling transformation. The Elements have disbanded.....except for Pinkie Pie. She's been somewhere else.
New take on anthro. Giving a "canon" explanation. Hope you like it!
Might add sex tag later.
Cover art by my former special somepony.
Chapters (4)