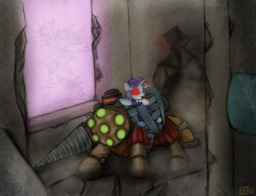 Source
Bioshock meets MLP in this psychological thriller, where Celestia's new faithful student, Siren Song, must discover the truth behind the city beneath the waves.
Beautiful, gifted, and faithful student of the Princess of the Sun, Siren Song has very nearly everything a pony could want. Sometimes though, in the twilight hours, Siren can see the sadness in her mentor's eyes. Once, ponies whisper, the Princess had another student named Twilight Sparkle, but she left Equestria, never to return. The pony who has a perfect life just needs one more thing—to convince Twilight Sparkle to come home so the Princess will smile again. But when Siren arrives in pursuit of Twilight, she soon finds herself trapped in a city of horrors, with only its monstrous denizens for help.
Book one of the Vision series.
Chapters (16)