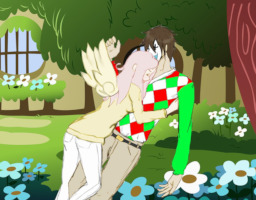 Royal Jester Perry O'te is asked to take a break from his job, much to his displeasure. He loves to be at the castle and treasures his time working and making people laugh, but that isn't really why he was forced to leave. What is the real reason Celestia asked him to vacation at the quiet town of Ponyville, and why does he wear that mask of his? What happens when trouble starts to brew in town, and the true reason for his stay is revealed. Will the Mane 6 continue to accept his company or are there some people no longer deserving of the magic of friendship?
(This story takes place before the end of season 3, and contained humanized ponies.)
Cover artwork done by my great friend Katgurl5. Check out her other work at her deviantart page. Just search her and your good to go (link taken out due to recent NSFW purge, and deviant art can have quite a bit of that). Some of it is NSFW, so you have been thoroughly warned.
Chapters (24)