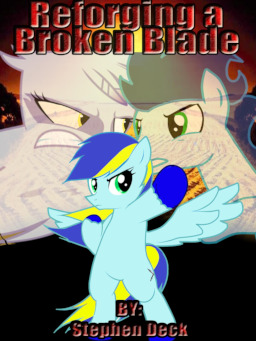 Source
A new stallion moves to Ponyville, but it's clear from his interactions with the townsfolk that something is constantly bothering him. Twilight Sparkle decides to befriend the new pony and try to help him forget the pain of his past in whatever way she can, but the specter of war can add unexpected complications to any plan.
This story is on its second major revision, and there are a few things I want to clarify about it. First, the OC is NOT supposed to be based solely on me, and none of the events in the story ever actually occurred. Events in my life have influenced the story, and the story and characters represent my emotions, but it is not my intention to "ponify" myself in this story nor am I attempting to chronicle any part of my life. I went into a bit more detail about my changing focus and such in a blog that I encourage everyone who knows me IRL or who has followed this story for a while now to skim quickly so as to minimize confusion.
My thanks to thedarkprep for encouraging me to start writing this instead of just talking about doing it!
Chapters (21)