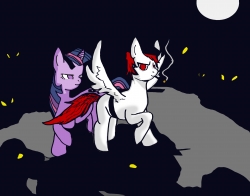 Two long years... Nightmare Moon escaped her thousand years of imprisonment, took her revenge against her sister by battling the Elements of Harmony and defeating them, banishing Celestia to her sun. However, she isn't done with just that- she took Twilight and forced her to serve under her as she put the Equestria in darkness and eternal night.
Amidst of all this, she met a companion...
[The story will progressively go from dark, sad, gloomy through two years into something of light story with happy ending. I will change tags as I do, also character tags as well as they get introduced into this story ].
This is my first fanfic! Don't be gentle! One of reason why I started writing is because I'm Deaf and I've yet grasp the full concept of English.
Chapters (6)