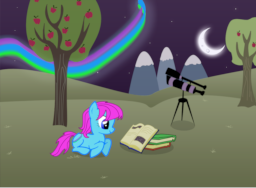 (Image by RedBaron0)
(Edited by NaughtSought and Alcatraz)
Summer vacation, everyone's favorite time of the year. A time of rest and relaxation from all the stresses of the school year. For a graduating student named Tyler, this year is extra special. He's on his way to Ottawa to celebrate both his success and the birthday of his grandmother. However, his trip takes a major detour as he vanishes from the world he knows. Thanks to a major discovery hidden deep beneath Canterlot, he resurfaces in the land of Equestria, though he is far from being "himself."
Chapters (14)