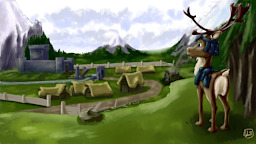 Source
As one of the royal guards, I feel it entitles me to call myself a hero to my fellow reindeer, someone they can look up to. I was going to spend my last breaths on my land, abiding by the oath I swore by for my kingdom.
I had no idea the true hero was half my size, had little training and was the only one who really stuck with the oath.
Brilliant artwork by Archonix, check out the source for his dA page.
(Entry for the World-Building Alliance contest for February in the "reindeer" category. Features barbarian ponies and reindeer.)
Chapters (1)