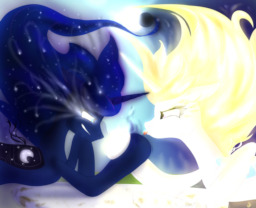 Siblings. Many of us have them, and those who don't have heard stories. Of the laughter, of the teasing, of the jokes played, and the battles won and lost. Celestia and Luna are no different. If anything, their friendly sibling rivalries are tempered by their positions and power. So, when Celestia plays one prank too many, Luna declares an ancient rite not seen by anypony in a thousand years.
A royal prank war.
With the newly-reformed Discord and Captain Shining Armor as judges, the two sisters swear to not stop for a full month, or until one sister surrenders.
The question is: will Equestria survive when its very ruling body is trying their best to prank the other into submission?
Awesome cover art used with permission by 1100Soulite
Chapters (13)