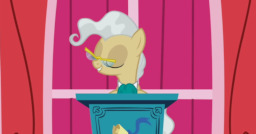 It's Ponyville's 100th birthday, and Mayor Mare has a plan. Like all great plans, it is simple:
1) Give the greatest speech she's ever written.
2) Impress everypony in the audience (including Princess Celestia).
3) Get out of this hick town with its hick politics, and take her rightful place among the Canterlot Council.
She's even got Granny Smith, Ponyville's oldest and most scatterbrained living resident to give the opening remarks. After an introduction like that, there's no way she could look anything but spectacular. Right?
Chapters (1)