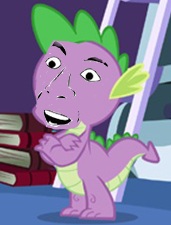 We all know our beloved dragon, Spike. He is kind, helpful and never complains about unfair working conditions. He helps where he can and tries to live a happy life while being Twilights' number one assistant.
What if Spike wasn't that? What if he would be a sarcastic and cynical flank-hole? What if he had enough of the way Twilight handled him? What if he leaves Twilight and searches for his own life?
Well, let's see how this plays out.
Now with a sequel.
Dated pre-coronation, and will not take the changes of it into consideration.
Chapters (12)