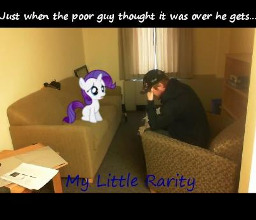 An Alternate universe that deviates from the storyline seen in No, I am NOT a Brony, GET ME OUTTA EQUESTRIA!!! in which Celestia reveals at the Gala that she can in fact send him home.
Eager to do exactly what he's been waiting to do, he grabs his Clovevellian Staff and computer, and is promptly sent back to Earth, free from any more pony (and no, he will most certainly NOT be watching the show either).
A year passes and TD is happy back on Earth and has a job as an RA at his school. You know, the kind of job that requires a lot of human contact.
That's when the box shows up...
Yes, this is a TD version of My Little Dashie. Don't read if you don't like either MLD or TD in general.
Chapters (14)