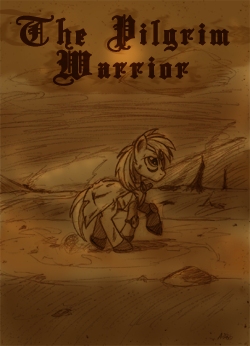 Source
Come near, little foals, and hear the a story from the old times. A story before the princesses and Equestria, and far before the clash of the three tribes. A story of a world where harmony was only a word and war was a reality.
A story of old kingdoms whose names were forgotten, and most of all the story of a traveler...
...A pilgrim warrior
--
This is an adaptation of a story I wrote a couple of years ago for a writing contest (I didn't win anything so you could figure how well I went in the contest). I thought the concept could be applied to ponies in a nice way and after translating a bit and adding ponies to the mix I had this as a result!
Just a quick story. Nothing more, nothing less.
The lack of description of the characters involved and the land itself was intentional. I wanted the reader to imagine the characters and the land as they want, not giving names or descriptions if it wasn't necesary. It was kinda an experiment since the original was written under a page limit, so I wanted to do as much as I could with the the "space" given.
I want to apologize for the more than probably misspelings and mistakes beforehand. I know my english isn't the best.
Chapters (1)