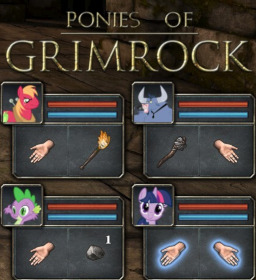 Four individuals convicted of terrible crimes have been sentenced to the harshest punishment in Equestria: They will be forgiven of their crimes and then thrown into Mt. Grimrock, a near death sentence, as nopony has ever made it out of the deadly dungeon alive. However, with nothing left to lose, and only their freedom to gain, the four must work together to overcome the dangers that lurk below. Will the power of friendship be enough to spare them from the jaws of doom? Or will they succumb to the horrors of Mt. Grimrock?
This is a crossover based on Legend of Grimrock, an indie RPG dungeon crawler game by Almost Human, which I highly recommend. Playing the game is not necessary for enjoyment, as the plot was very bare-boned, and essentially identical to the prologue of this fanfic.
Here's some self-made fanart. Moar.
Chapters (14)