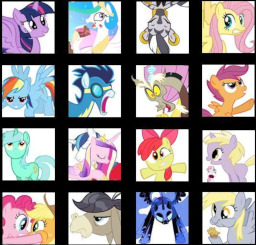 My Faithful Student Twilight Sparkle...
The lost kingdom of the Crystal Empire has returned from a long period of, well, being lost. I will have to miss this years Summer Sun celebration, as this matter has become one of an utmost urgency.
Since I am working twice as hard during a national holiday, I have decided you should have a break. I have arranged for you to be escorted to Ponyville. Hopefully, you will be able to get out of those dusty old books and make some friends. I know the concept of making friends may seem scary for you at first, but I have every confidence that you will do so with the same vigor you study magic.
I have prepared a chariot to escort you immediately. I hope you have a wonderful vacation Twilight.
Know that I love you, and that I am with you in spirit.
Your friend and mentor,
Princess Celestia.
When I first received that message from Princess Celestia, I had no way of knowing it would be the beginning of the least relaxing vacation ever. I had no way of knowing me and my friends were about to fulfill destiny. I had no way of knowing that this would be the beginning of a long year, fighting Discord, Nightmare Moon, Megalomaniacal unicorns, and other subtler dangers.
This is the story of me and my friends, the Elements of Harmony.
This is the story of a precocious group of fillies called the Cutie Mark Crusaders.
This is the story of Princess Celestia, as she fights physically and politically to keep Equestria safe.
This is the story Three Seasons in the making.
Chapters (2)