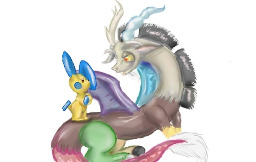 Source
Meet Brian. A simply character who likes to live the normal life, no unforeseen adventures or accidents for him, no sir! But one day, he has a rather unfortunate crossover with, who might as well be his complete opposite, a chaos spirit from another world, by the name of Discord. Also unfortunately, he had been holding a certain game at the time that mixes things up right and proper to bring a real zing to the situation. Will Brian be okay? No.
[Updates will take a while to arrive, due to school and other problems. Thank you for your patience.]
Cover-art done by the incredible and amazing and brilliant and- Okay fine; burned-up-wings. DeviantART. FimFiction.
Chapters (2)