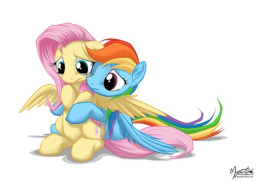 Source
Rainbow Dash and Fluttershy have been happily married for about two months. When Fluttershy believes that they are ready to start to their own family, Rainbow Dash reluctantly goes along with it eventually. However, they find their relationship strained and tested under the new conditions.
Also contains RariJack. Rated teen as it does contain some adult themes.
Cancelled due to a change of mind. Story to be replaced but the original will be on gdocs at some point.
Chapters (10)