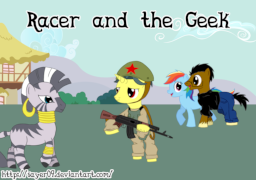 Sunny Breeze is living a quiet life in Ponyville until one night, Rainbow Dash suddenly appears at his door! What does she want? What's really going on here? What are her true motives? All may not be as it seems, especially Sunny himself.
Thanks to MrSing, Sayer, John117, Nahmala, and Brony2893 for their prereading, advice and edits. Thanks a million, comrades!
Big thanks to Sayer for the awesome cover art! If you want an artist, he's the man you ought to talk to.
Lastly, feedback is appreciated; don't hold back if you got something to say.
Bringing this out of hiatus soon. Updates to follow.
Chapters (9)