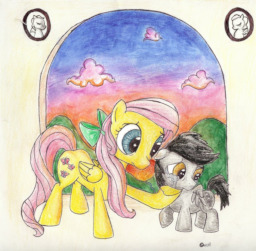 Source
I always loved my little brother. He has always been one of the friendliest, sweetest, and most unique colts you would ever meet. But I always had the knowledge that he was different, and a lot of ponies would hate him for it. It wasn't until this most recent spring that the cruel reality of the world would break him down. From that moment on, Celestia could only tell what his fate would bring. My name is Fluttershy, and this is the story of my brother, Mockingbird.
Rated Teen: For language, strong homophobic slurs, violence, and sexual content.
Special thanks to thedarkprep, OfTheIronwilled, and Wireframe for helping me proofread, edit and revise.
Cover art by the lovely miss Dotterall (Head over to her deviant art account and give her work the much needed praise she deserves!)
Chapters (13)