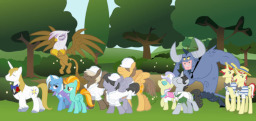 A MLP FiM parody of TGWTG's 'Suburban Knights'.
Prince Blueblood enlists the help of Trixie, Gilda, Flim, Flam, Dumbbell, Hoops, Score, Jet Set, Upper Crust, Iron Will, and Lightning Dust, in order to go on a quest for buried treasure. But what begins as a greedy quest for riches and glory, will become a mission to save Equestria from unspeakable evil.
Takes place after Season 3.
Sequel: To Boldly Hoof It
Chapters (18)