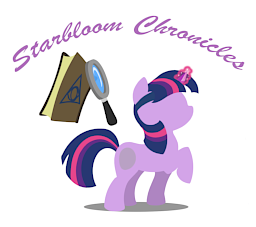 Source
This story is a sequel to Twilight's Sleepless Nights
---
A few weeks after Twilight's bad dreams end a small filly arrives in Ponyville, and Twilight seems to know who she is. Even stranger, the filly looks a lot like Twilight just with out a horn.
This is a sequel to Twilight's Sleepless Nights, how will Starbloom take to life in Ponyville as filly and worse, going back to school?
Artwork by Ravenpuff
Playlist reading by Fred2266 Chapters 1 - 8
Chapter 1 - 6 have been fully grammar checked and corrected by the-pieman the rest shall be done soon as he has time.
Chapters (12)