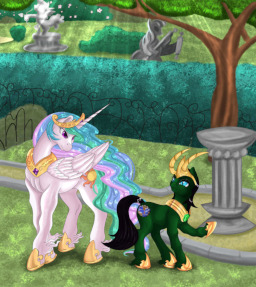 It's been five thousand years since the Summit of the Gods was last hosted in Equestria, and after dropping off Discord in Ponyville, Celestia returns to Canterlot Castle to meet with the entire Norse Pantheon. Before she can arrive, though, she's stopped by a guard with a strange message, sent on the behalf of a mysterious figure from her past.
Now available as an audiobook! Reading by Illya Leonov.
Now with a Russian translation!
Cover picture by Sonson-Sensei.
Chapters (1)