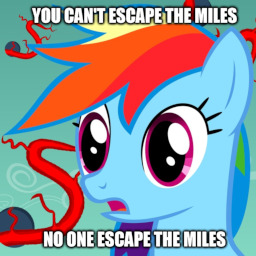 Source
Rainbow Dash and Twilight Sparkle, who are stoned out of their minds on poison joke mixed with some rancid frosting from Sugarcube Corner, decide to find a good place to eat. They must adventure around The Glorious People's United States of Democratic America, trying not to break things, and they must defeat the evils that stand before them, and some goddamn tacos.
This is what happens when I re-purpose old ideas for old fanfics. You can either take it seriously, as a masterpiece of human literature, in which Shakespeare would weep at, before running home to wear MCR shirts and cry about how goffick he is, like a My Immortal character, or not, in which case I hope you get a few laughs from it. Maybe it would even be in your interest to give a upvote or a comment. But deep down, you know stories about intoxicated equines with mythical properties won't change the fact that you live a bleak existence, in which millions of humans starve, and yet there are charities for endangered animals, or that billions of dollars are spent on new weapons to humanely murder other humans. The message is always the same: Be nice to people, but beat out the competition! You won't find a reason for free will after such thoughts. We give you freedom, and you abuse it. Read the fic or not. We're done here.
Whew. Sorry, I went on a Patriot rant there. But yeah, this is most likely not meant to be taken absolutely seriously. And if you do, might I recommend that you stop caring about a random fanfic author that wrote a story about two ponies getting high, and instead focus on your education, or your career?
Chapters (7)