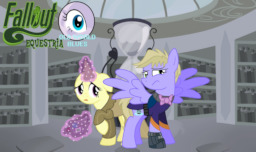 Cloudchaser has always been tired of life in the Marejave, longing for something not coated in 200 year old dust, and when Canary Belle,one of Applejacks Rangers, trots into her life, her wish might just come true.
Based on the DLC Old World Blues, this story is set in the Fallout Equestria universe, continuity wise it takes place after (SPOILERS)Friendship City is blown up.
EDIT: NOW ON EQD (by technicality) http://www.equestriadaily.com/2012/01/new-falloutequestria-side-stories.html
Please don't be too harsh , if you don't like it, please tell me why. I'd like to improve.
I'm an artist mainly, and this is my first try at really writing something long and, hopefully you can look past my bad writing.
I cannot format for shit, so any help would be massively appreciated. Like, explaining it doesn't help me at all. Its kind of my fatal flaw when it comes to writing. Please, anyone who can, I would like a prereader.
Chapters (3)