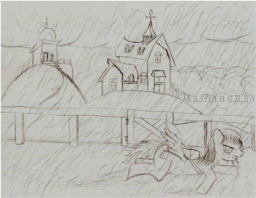 This is a story of a pony that arrives in Ponyville, broken and dying, before being rescued by Applejack.
He ran far to get here, and he's not sure if he's being followed, so hiding in Ponyville seems like his best bet.
However, his secrets build up and his insecurity rises.
How long can he keep secrets from the new friends he's made, and what will happen to those friends when his secret gets out.
This Arc is finished but the story continues!
Check out the rest in:
Dysphoria, Arc 2: Ponyville
Dysphoria, Arc 3: Canterlot
Dysphoria, Arc 4: Summer Breeze
Chapters (11)