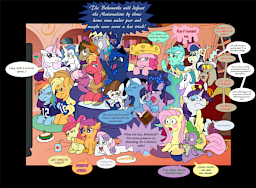 Source
Well, it turns out they play Football in Equestria too - well, hoofball - and just like here, there's a Superbowl. And of course, with the Superbowl comes the Superbowl Party. Now when it comes to Superbowl parties, the Earth Ponies who invented the sport tend to have the best ones, although they sometimes get just a little carried away. Ponyville, being an Earth Pony dominated town, is no exception, and every year, most of the town gathers to watch the EHL champion crowned. Follow this tale of laughs, food, grudges, drinks, and ... romance? ... at Ponyville's Annual Superbowl Party.
This story is a collab between members of The Sports Bar
group here on FIMFiction. Each chapter is written by a different author and their name is listed with their chapter.
Cover Art by unoservix, used with permission. This story is based on Superbowl XLVII.
Chapters (4)