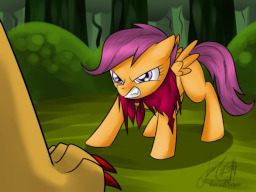 The Grifo-Draconic war has begun, violence has broken out nearly everywhere. Equestria has barely remained neutral, despite attempts from both sides to get them to join on their side.
Atticus, an elder dragon, is moving his family to the safe haven of the Everfree forest when they are ambushed by griffon mercenaries. Atticus is struck with a enchanted arrow and drops into the Everfree forest below.
-
The picture used for the cover art is Bravery by Recycletiger. The deviant-art page doesn't seem to exist anymore, but the image is his.
Chapters (5)