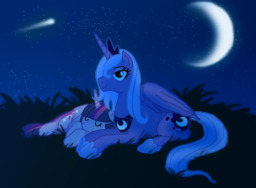 Right now, I'm in an unfamiliar bed, but even so it feels quite comfortable. I'm relaxed and safe, but I think that's because of the pony laying next to me. It's been over twenty years since I met her, and along with her there are a lot of ponies in the room with me. They're all really nervous and scared. But I'm okay, because she is here.
My name is Twilight Sparkle. I am the Archmage of Equestria, the youngest ever at forty five years old, and right now, I'm laying on my deathbed.
But that's okay.
As long as Luna is here, I'll be okay.
Chapters (3)