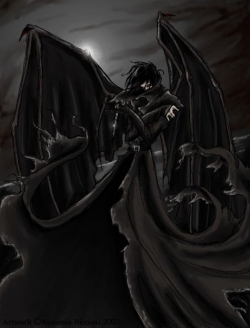 A letter sits upon a table where it had not just a moment before. A golden glow lifts it as it unfurls in front of the reader.
Let us see here, how to begin?
Well, I suppose the best way to do so is with introductions. I am Prometheus and while I was, as one might say, tied up for quite some time I noticed your world. I have to say it's quite interesting, but unfortunately stagnant as well. So Miss Celestia I, being the patron of progress that I am, have sent someone your way. He is not a creature native to your world, a species I personally have a great deal of interest in, they're ambitious little scamps. I am bestowing a gift upon him as I send him, one he will in time learn to master. It is my hopes he brings progress to your world, but as the past has proven on many an occasion the best intentions can at times have the worst effects. We'll just have to see how it goes won't we.
Sincerely,
Prometheus
Ha, not as smart as the bastard thinks he is. I managed to snag the paper from him. So "Miss Celestia" my name is Coal and apparently I'm supposed to stir up some dirt. I'll admit I know just as much as to what is going on as you do, but if he's the Prometheus I'm thinking of, things might be a little more complicated than he'd let us believe. Crap, he's coming back. Ummm... Why did I just waste time writing Ummm?
Winter is coming... I'm disappointed with myself if that's the best I can come up with.
Chapters (16)