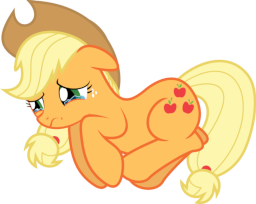 Applejack has been in love with a certain pink mare with a puffy mane for quite a while now. Yes, She and Pinkie were inseparable. If you were to see Applejack, chances are that Pinkie was somewhere nearby. But something isn't right. Recently, Applejack has noticed some odd behavior from her pink lover. Distant gazes and unhappy faces when Pinkie thought that AJ wasn't looking have begun to make the southern mare ask questions. What is it that Pinkie Pie won't tell her?
This is my first attempt at a shipping story, as well as a sad fiction, so please do leave comments! This story may not update frequently, but if I can, I will try to at least get a chapter out here and there. I hope you enjoy it!
Cover art by teiptr
All other pictures owned by their respective artists/Hasbro. I take credit only for the written story, not the images or the characters.
Chapters (1)