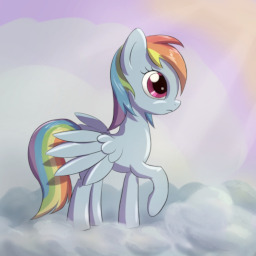 On the day he was forced to move far away from her a young colt named Sonic was gifted a single feather from the wing of his best friend and personal hero, a flying prodigy named Rainbow Dash. But when tragedy struck Sonic's life shortly thereafter, that gift became so much more than just a feather... Now as a young stallion he may have the opportunity of his dreams; a chance to finally reconnect with the pony that he thought about every single day since their separation. What he never could've dreamed however was just how large the implications of Rainbow's small and simple act of kindness would be for not just him, but all of Equestria.
***PLEASE SEE BELOW BEFORE READING!!!***
Character Rundown:
*Rainbow Dash and narrator OC are the main characters in this story*, so if you see this story in a group dedicated to one of the below characters please note that while they are not the focus they are all featured at some point or another in significant supporting roles - however that this is quite a long story so some of these characters may be featured prominently later on or they may have most of their screentime in the beginning/first half:
Scootaloo
Princess Celestia
Princess Luna
Spitfire
Fleetfoot
Soarin'
Thunderlane (canon background pony)
Whitewash (canon background pony)
Clear Skies (canon background pony)
Blossomforth (canon background pony)
Buddy (canon background pony)
Merry May (canon background pony)
Multiple OCs
Ice Dragons
Rarity
Pinkie Pie
*The author will attest that the characters in this story are very invested. He believes readers will get as much as they are willing to invest.*
*Nothing after season 3 is canon in this story.*
I only hope you can take something positive from this story should you choose to read it. Comments and feedback are requested! I'd love to hear from you regardless of whether or not you liked it.
Chapters (29)