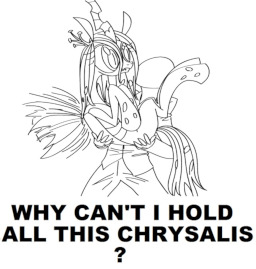 You live a relatively normal life in the town of Colorado Springs, working up at the local Target and battling the ocasional bout of snow. However, all of that changes when Queen Chrysalis, a villain from a show you have base knowledge of thanks to the internet, winds up outside your apartment. What could possibly go wrong?
Secret final (unfinished) chapter: Part I, Chapter VII - Setting Boundaries
Featured (or at least put in the box at the top of the site) on December 14th, 2014!
Big thanks to my pre-readers/editors
LunarWorshipper1!
Permanganate!
Chapters (8)