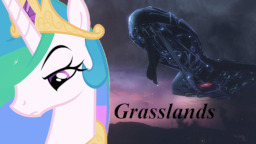 A young priestess of the Covenant accompanies Equestria's Elements of Harmony with a particular mission. To uncover an ancient Forerunner ruin in the Everfree Forest. As time goes on she becomes witness to the magic of friendship, uncovers a series of disturbing truths and soon must make some harrowing decisions regarding her faith.
What is the greater sin; disobedience or desecration?
Rated Teen for violent themes.
Chapters (3)