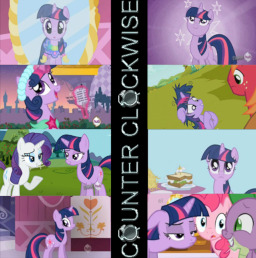 A lot has happened in twenty-five years. Princess Cadence is now Princess of Equestria. Twilight's friends have all parted ways and pursued their own lives. Twilight herself has become the highest-level unicorn, now capable of manipulating the fabric of space-time with her magic.
Alone, scared, and desperate, Twilight travels to the future on a journey through time to find out who she is and where she belongs in the universe after the heartbreaking event of the death of the beloved Princess Celestia. It is here she catches the attention of a group of elite vigilante unicorns known as the Temporal Manipulation Squad. Twilight becomes Equestria's most wanted and is now forced to spend her time running from certain death while on her mission.
Will she escape the Temporal Manipulation Squad and make it back home in one piece? Will she succeed in her efforts to answer questions she wished she never had to ask? What will become of Twilight? Join Equestria's favorite unicorn on an epic journey through time and space as she explores the world of the future.
Author's Note: Rated Teen for language.
Chapters (34)