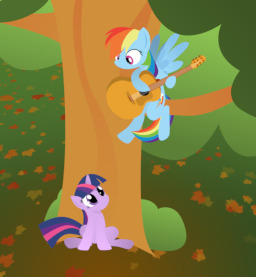 Source
After having her first relationship end on a sour note, a dejected and emotionally confused Twilight returns to Ponyville. Rainbow Dash soon realizes something is wrong and comforts Twilight. Helping deal with Twilight's problems, Rainbow becomes a shoulder to cry on, a Guardian Angel of sorts. As Twilight recovers, the two mares find themselves learning more about themselves and each other.
A TwiDash "song-fic" with an interesting take on Rainbow Dash.
Inspired by various songs, including some really amazing community creations.
Chapters (16)