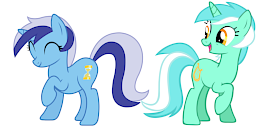 A simple dentist trip creates a friendship so strong not even the author could break it.
Lyra Heartstrings is known to be ambitious and confident, except with one thing... dentists. That's right; she has a fear of a simple thing. But now is the time to act on her fear (and filthy teeth) in a journey to the dentist. Just go in, lie back, and get out. Right?
If only things could be so simple.
Chapters (8)