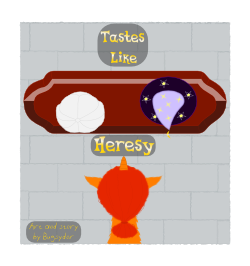 Source
Or: How to Fry Your Career in Eight Easy Steps
(Featured on Equestria Daily 1/8/13)
I'm Amber Spice, and I was Royal Chef to his royal highness Lanthanum, King of Unicornia. Was.
Now I've somehow gotten myself banished from the land, perhaps forever. Now how did I manage that, you may ask? Let's look back and see. I can't exactly sleep, so this isn't a bad way to spend my last night here.
Turns out a little bit of soul-crushing boredom, a tenacious and chaotically creative mind, and a tangent to launch off of form a dangerous recipe together.
And the result tastes like heresy.
---
Praise for Tastes Like Heresy:
"...very well-written. It's clever, silly, and perhaps even a bit anarchic." — Ottermatt of WRITE
"It is all very well thought out, yet feels organic instead of rigidly planned..." — Soge
"This is how original characters should be done." — Shahrazad of The Equestrian Critics Society
"Shut up and take my bits!" — SIGAWESOME
Now has its own Tropes Page.
Chapters (9)