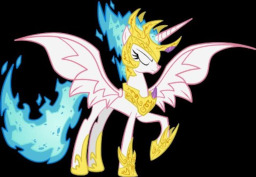 being the First Alicorn born outside of royalty is hard. being born with a Cutie Mark is harder still. having dominion over Time makes it difficult. but Starlight is trying hard to make the best of it. trying to, being the key word. then one day, 17 years later, she discovers something that shocks her to her core; that her father may not be her real father, and her mother is keeping who it is tight-lipped. so, she's gonna take it into her own hands.
she's going to go find her real father. if her friends want to join along, she's not going to stop them. she's still going to find him or die trying.
if only she knew what kind of a horrid stallion her father really was...
Chapters (45)