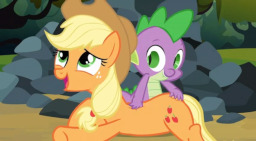 Source
Spike's up to something, and Twilight's determined to find out what. But when she finds out, will she be able to see her Number One Assistant in the same way ever again?
My AppleSpike contribution. Don't ask me where the Romance tag ran off to.
Rated Teen for heavily-suggestive dialogue. Just try not to use your imagination and you'll be fine.
Chapters (1)