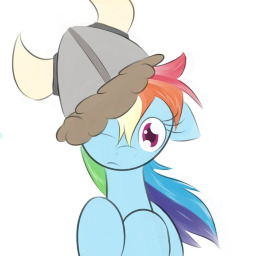 Rainbow Dash is visiting relatives in the northern part of Equestria when she stumbles upon a block of ice frozen in a cavern in the mountains. Upon touching the ice, she awakens an ancient Pegasus, Fjord Runner. The ancient flier has been in his frozen prison since before the rule of Celestia, Luna, and even Discord! Now that he has revived, he has a lot to learn about the modern world. It's going to take everything Dash has to show him the ropes, and not be killed by this Nordic warrior.
...yeah, this won't end well.
Story based on an awesome fic by Aegis Shield called Twilight and the Spartan Stallion.
Chapters (8)