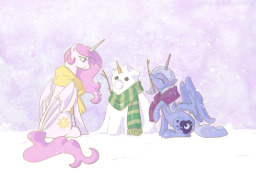 A young Luna and Celestia build a snowpony.
A bittersweet tale of the younger, pre-Equestria princesses. More convoluted than it appears. Story inspired by Egophilliac's drawing.
Part of the SALT monthly contest, December round. Thanks go to Firebirdbtops for the pre-read on this.
A Note On Sequels: None of them take place in the same location or carrying the same themes. They're more a sort of loosely connected character arc for Princess Luna that can be thought of as 'canonical' to one another.
Chapters (1)