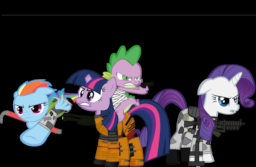 Source
What if, instead of going to Ponyville, Twilight Sparkle left Canterlot to go to the Pony Mesa Research Facility?
What if, instead of fighting off Nightmare Moon, she fought off a Resonance Cascade?
And what if, instead of meeting her friends in preparation for the Summer Sun Celebration, she instead met them in the aftermath of the Resonance Cascade?
This is the story of Twilight Sparkle, as she takes on the role of Gordon Freeman from the original Half-Life, and the friends she meets along the way.
Thanks to HiveLordLusa for the picture.
Chapters (9)