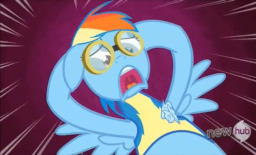 Nightmare Moon. Discord. Chrysalis. Sombra. We faced them all, together. Always we were together. Yet in one heart-stopping moment, I almost lost everything. They don't know how close it was, but I do. I alone know what almost happened. The truth. And the truth about the truth? It keeps me up at night.
And it terrifies me beyond anything else this world can offer.
But at least I have my friends to make it all feel better.
This story takes place directly after the events of "Wonderbolts Academy." First-person from Rainbow Dash's perspective.
Sister story to Scattered Dust. Not a required read to understand this, the stories will intertwine but are both stand-alones.
Featured on Equestria Daily, 1/7/2013!
Surgeon General's Warning: Here be feels. You have been warned.
Thanks to Carpe Diem for pre-reading!
Chapters (3)