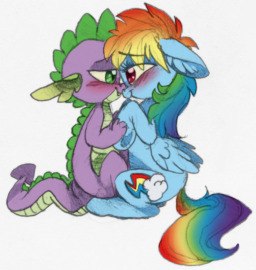 Rainbow Dash is feeling down, the day had not started on a good chord and something she had worked for so many years has bit her on the flank.
So who can help heal the Pegasus's wounds? Who can help make her smile and laugh again?
What a dumb question, who better than our resident dragon?
Hijinks and sweet moments ensue.
Credit to 8-Xenon-8 for drawing. If you dont want it up i shall take it down and replace it.
Chapters (2)