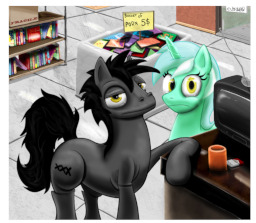 Source
Sly Clop is a laid back slacker who runs one of Ponyville's only porn shops on Soresaddle Street. He is a regular customer of Hard Cider's "gentlecolt's club", the Knife and Apple, where he regularly shoots the breeze with Rainbow Dash, who's seen better days.
One day, his only employee quits, and he's forced to hire a new one, starting a new awkward relationship with Lyra, who needs cash. What follows is a lighthearted fic with dark undertones that I hope you'll enjoy.
And if I haven't convinced you enough by this point, no, this not a clopfic.
New cover image by mickf18 on deviantART (DeusExKane here).
Chapters (12)