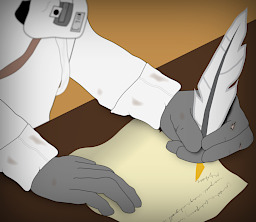 In a world of peace, magic and harmony, a flawed human presence may not seem necessary. When Simon returns from outer space to find his world inhabited by creatures with an almost innate perfection, he certainly suspects this to be true. As Simon discovers and documents the fate of his species, and learns how Equestria was built on the ruins of man, he fears that he will prove himself irrelevant. But things are not always what they seem, and the life of the last human may still have meaning.
New cover art by jjames10. Much thanks to him for his excellent work. Original cover art here.
Originally intended to be one scene set in one room in which the question, "Why would a human need to be in Equestria?" was answered, my theory to address the question has expanded to the scale of a small epic. I hope it works.
A lot of the concepts and facts introduced here are so vast and academic, they really can't be expressed in dialogue. Instead a number of scenes are in "written document" format to give the reader a thorough information-dump. This is a world-building fic.
I also omit a lot of the Slice-of-life, getting-to-know-you scenes you see a lot in HiE because the focus is on concepts rather than actions.
I wish to achieve the following with this fanfiction:
Create a character whose strengths and weaknesses are clear, or become clear as the story progresses.
Give the human character a compelling reason to be in Equestria based on an interpretation of the themes of the show.
Present a theory about the character of Twilight Sparkle and her intended role in the future of Equestria
Accurately portray existing characters from the show
Sources of Inspiration (This will be very long, some sources will be missed):
"The Stars Will Aid in Her Escape (Cosmic Love)" - PMV by mmmandarinorange
"Rorschach in Equestria" by Ex-Nihilos
"The Planet of the Apes" (1968)
"Slaughterhouse-Five" by Kurt Vonnegut
"World War Z: An Oral History of the Zombie War" by Max Brooks (Stylistic influence)
"The Stand" by Stephen King
"Pet Sematary" by Stephen King
"Moon" (2009)
"The Old Man and the Sea" by Ernest Hemingway (Stylistic Influence)
"The Wizard of Oz" (1939)
"King and Lionheart", song and music video by Of Monsters and Men
For some inexplicable reason, this song.
My Little Pony : Friendship is Magic, created by Lauren Faust, property of Hasbro, Inc.
Sources that DID NOT inspire this work:
Arrow 18 Mission Logs: Lone Ranger by Admiraltigerclaw
Feel free to take this premise and make it better.
I feel that this story is either going to be my "Citizen Kane" or my "Plan 9 from Outer Space". Either way it's my masterpiece.
This story is dedicated to Abby, my dog of 14 years who passed away on February 26, 2013
Chapters (23)