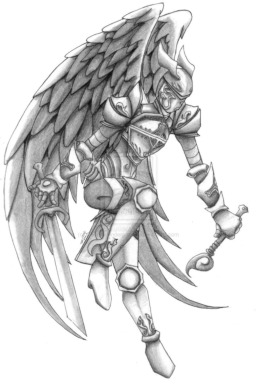 Erinn, a world that was paradise to many people, even to those that did not know of others that lay across the ocean or even on the same continent. But when threatened by an old enemy that came back with an unrelenting force and overwhelming strength the people called onto the gods for help, one answered their prayers.
The Milletians, children of the stars, were called to save and protect Erinn, but at the cost of their lives instead of those that were born there. One such soul who has been slain many times, only to be tossed back into the fight for the survival of hundreds.
This soul, twisted broken and lost, is all that remains of his kind, the children of the stars, as the betrayl of the gods fills his mind with pain and sorrow. This betrayl only fueled his anger as he was casted off, away from Avon or the world of the uninvited.
His only goal now: To survive.
I am experimenting with this one so light critizim and since my computer is a bit old it has no spell check so bear with me.
All species from the show are anthro-ized, so if you do not like it than do not read it. Plain and Simple.
Humans and Non-Alicorn Ponies=6 feet tall, Gryphons=6.5-7.5 feet tall, Diamond Dogs=5-7 feet tall, Dragons=Depends on Age
I do not own Mabinogi, or any of it's details except for my character.
The Cover Art is not mine, it belongs to Gacrux-Underground from deviantArt.
Chapters (1)