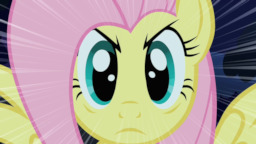 So how did Fluttershy discover that she could use The Stare? After much wondering on the part of Princess Luna and Twilight, she finally tells the story.
The story she tells involves a small lunch, a trip to the Everfree Forest, and one of the Fluttershy's close friends becoming a statue.
This story uses "Luna's Power and Rainbow's Love" as a framing device, but it's not necessary to have read that story to understand this one, aside from unrelated details mentioned at the beginning and end.
Chapters (1)