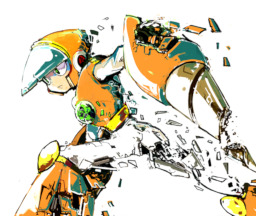 Source
Every hero has a reason to be the hero. Every villain has a story and motivation. Every villain falls to defeat by the hero. But for Crashman, he welcomes his defeat. Crashman wished that he did not have to be the villain but to be the hero, yet here he was following his programing by Dr Willy. So he called Megaman to come and destroy him and take his power to defeat Dr Willy. And so Megaman came....
Metabee was the world's greatest Medabot and has saved the world many times along side Ikki more times that he could count however the years has not been kind to the two. With age and rusting parts Metabee still goes strong as the world's strongest Medabot without his trusted friend as Ikki has passed on, Metabee still is the hero that he was back in his golden age. Now while setting the path for a new generation of Medafighter heroes and Medabots, Metabee must sacrifice his life to make way for the next generation....
ShadowMan has fought many net navis yet none of them could top Megaman nor Photoman or their net navis. Roaming the net, ShadowMan finds a rather strange Net Navi. Alone to fight this strange Net Navi and a hoard of virus and for free no less, ShadowMan fight true and strong before he is confronted by a creature with a proposition. A new challenge and a new world to fight for.... with a few rewards one of which will be paid up front.... a body....
All while a certain blue Alicorn watch from her prison far far away.....
Story was inspired by The Megas: Programed to Fight
Chapters (16)