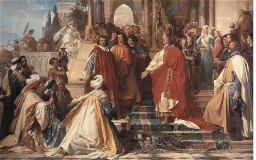 Source
Pushed from their home by the jealous and monstrous Equestrians, the broken remnants of Humanity flee across the sea to the far north. Beset upon their arrival by countless new dangers and ensuing tribal division, the humans war amongst themselves for what little supplies are left until He came. Unifying Humanity, Magnus strives to craft a new and ensuing golden age for his flagging race.
In the lands of Equestria, the princesses are celebrated in every town and city of the nation. The defeat of the barbaric humans restored their ancestral lands to them and have ushered them into a new age of wealth and prosperity. But strange, new phenomena threaten this idyllic life. The princesses are at a loss and when ponies are asked what they think of these events they only answer with one word: "chaos."
*This story is a prequel to "Sins of the Mother" so I recommend reading that first to get some more context for aspects of this story.
Chapters (7)