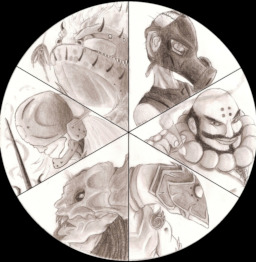 Part 1: Kindness Warms the Frosty Heart
After a humiliating defeat at the hand of a bizarre human with a mutated arm, a dazed Bael, Lord of Toads and Master of the Frozen Soil, is dragged back through the Hellgate, and plummets through the tunnel walls. When he awakens, he is greeted by a frozen wasteland, much like his home, but there is something amiss. It's too calm. Too peaceful. Before he tries to find a way back, he will make a new home here, but not before some alterations, and finding a source of food. Preferably the kind that didn't have a glowing hand.
---
Part 2: Laughter Cools the Tempered Heart
After the defeat (and subsequent death) at the hand of God, being used by a smart mouth human, Elvis of the Four Devas gives one last request to his slayer before he passes on. But where does one pass on to, exactly? Demons are especially tricky, considering their allegiances and designs. Elvis, however, was always the odd one of his race, exemplifying moments of generosity and kindness, despite his voracious appetite and short temper. Perhaps the good in him could be fleshed out in a land of harmony...
Warning: Gratuitous Spanish
---
Part 3: Generosity Graces the Vain Heart
Hundreds of years after a surprise attack, a vampire king is released from his limbo, and greeted by his once perished former brother. Boasting considerable strength and new found power after being subjected to the spirit world for so long, he warned his savior upon being questioned about his strength. When all is said and done, the mighty goliath of a vampire, a master of a now dead and scattered kingdom, will understand the meaning of humility and charity. And on that day, the life of a young and aspiring unicorn of fashion and art will help show him the way.
---
Part 4: Honesty Smooths the Jaded Heart
Monsoon came and went, and was reduced to silver lining slivers when the lightening of vengeance struck. He conceded to his own dark philosophy as he drew his last cybernetic breath. But the universe would not let him go, not as the cynical and violent soul he is. The winds of destruction give way to the winds of change, and like raindrops to a puddle, he is reformed on a new world for a new chance. Can his brutal point of view be changed with simple and peaceful honesty, or will he continue down the dark and complex path of his natural born chaos?
---
Part 5: Loyalty Opens the Closed Heart
Heaven demands the highest expectations of obedience. When a powerful witch dares to tread their hallowed grounds, eager and dutiful angels throw themselves at the chance to prove their worth. However, upon underestimating their foe, the messengers of God are quickly defeated. One particular angel that jumped into the fray was stricken out, and denied the embrace of death. While floating through the endless sea of stars, its broken body finds itself coming to a new realm, untouched by Heaven or Hell.
---
Part 6: Friendship Saves the Nihilist Heart
Frustrations swell as time continues to pass, where research and failure go hand in hand. A darkened mind is pulled from the void, violently ejected into a world not its own. Death gives way to life, and life bares death. The final heart as arrived, but not through planned volition. The worst is yet to come. It will be up to the scholar to unravel this enigma, while a new, far more dangerous threat grows. Sing the hymn of the mantis.
Chapters (62)